Dr. Satheesh Kumar Bhandary
Vice Chancellor Nitte (Deemed to be University)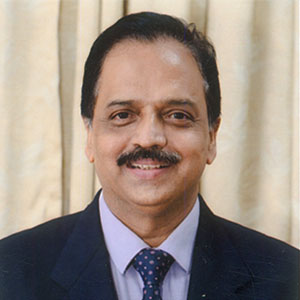 Dr.Satheesh Kumar Bhandary was appointed as Professor & Head of the department of ENT, from 1999, for a period of 13 years, followed by the Vice Dean, for a period of 5 years and as a Dean of K.S. Hegde Medical Academy for 5 years. Dr.Satheesh Kumar Bhandary started his academic journey in Mysore Medical College from where he graduated, followed by a diploma and completed his post-graduation, MS in ENT from JJM Medical College, Davangere, in 1986. He has served for about 10 years as Assistant and Associate Professor in KMC, Mangalore.
He has held a long list of executive and non-executive posts, such as the President, IMA South Kanara branch, President, AOI, Karnataka Chapter and Karavali Branch. He has contributed immensely to the advancement of his branch through numerous National and International publications and lectures. He has vastly contributed to research and has received several external grants of more than 20 lakhs from BRNS, Government of India. Dr.Bhandary is involved in many extension and social causes and was instrumental in establishing the "Mangalore Laryngectomee Club" at K.S Hegde Medical Academy, Mangalore which is one of the registered member Club of "The International Laryngectomee Association (IAL)" in India.
He is the recipient of various Honors and Awards, the most prestigious one being the "Arya Bhata Award" for Excellence in the field of Medicine by Aryabhata Cultural Association, Bangalore (2006). "Distinguished Alumni Award" from the Manipal Academy Of Higher Education, Manipal and the "Eminent Educationist Award" by the National & International Compendium, New Delhi. Samaja Ratna in Medicine by Jnana Mandira and samkrithi Trust Bangalore (2014) Saurabha Ratna Award in Medicine by Suma Saurabha state Awards in Bangalore 2015 "Achievement award" by Mantra Natyakala Academy Mangalore, Gurukul Ustav 2018.
Most important he was Awarded fellowship Ad Eundem(FRCS) from Darek Alderson, President Royal College of Surgeons of England, during the convocation held at St. George's Hall, Liverpool, U.K on 10th October 2018.
Awarded Fellow, by The International Institute of Organisational Psychological Medicine (IIOPM) on 1st December 2018 in Hyderabad
Awarded "Swami Vivekananda Excellence Award on March 9th, 2019 on 42nd Annual International Conference on Oriental Heritage 2019 Delhi
Life Time Achievement Award by Association of Otolaryngologists of India-Karnataka & Kodagu Branch held at Kodagu Institute of Medical Sciences on 28th September 2019
He has 73 publications & has attended more than 80 National/international Conference & has given more than 25 Presentations at Conferences and Scientific Meetings all over the world.
The Patent titled mouth wash for managing radiation-induced oral mucositis in patients with head and neck cancer, published on 21.2.2020
He has authored 2 books, one of which is a diverse topic from ENT and is about the collection of rare medicinal plants of coastal Karnataka.
Books:
Bhandary BSK. KSHEMA Herbal garden: a collection of rare medicinal plants of coastal Karnataka. Mangalore: Nitte University; 2017.
Bhandary BSK. Kivi-ondu kivimatu. Mangalore: Suman Publication; 2016.
Would you like to speak to one of our financial advisors over the phone? Just submit your details and we'll be in touch shortly. You can also email us if you would prefer.